Kittykill received her
package
yesterday!  I can finally show you the purse that I made to replace the one posted about below.  The front pocket is a mini quilt that I stitched to the outside by the binding.  Here's a pic of the inside
I also sent her an embroidery floss roll up she wanted. I designed it to work kind of like knitting needle roll ups. I randomly pieced the outside with red and white fabric scraps (don't have a pic of that unfortunately) and embroidered birds and a heart on it.
The inside has a zippered clear pocket for extras, a scissor pocket and needle spot. The part I'm most proud of is the area with the pockets for floss. The sides pieces I used to attach them with aren't uniform, which irritated me when I was done but I was proud of how the rest of them turned out.
I had fun making this crow pillow holding an anatomical heart.
Last but now least, happy 15th birthday (yesterday) to this handsome guy! Here he's with his sis last May before his 8th grade dance. He's almost 3 inches taller now!!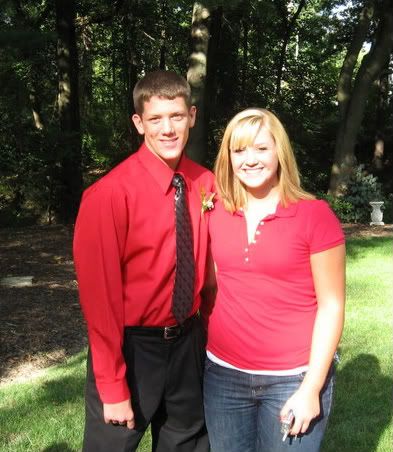 >That's all for now, Happy Spring everyone!!  Jenni